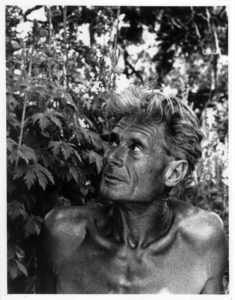 The Alan Chadwick Living Library & Archive was created to share the life, work, vision and legacy of English master horticulturalist, Alan Chadwick (27 July, 1909 – 25 May, 1980) and for historical, educational and research purposes. Chadwick's influence can be seen in gardens all across North America and internationally as well. Thousands of gardeners have adopted his basic approach, techniques and horticultural practices.
There is currently over 400 hours audio from Alan's lectures and public talks with complete transcripts and notations in process of digitization and restoration. In addition, there is approx. 16 hours of video, apprentice notes and journals, diagrams, drawings and plans, photos, articles, essays and much more. All of this archival material will be added to our website over time as permission is obtained to display them, and as they are edited, remastered, checked, and annotated. Archival materials are still being gathered. Please be patient, as much of the materials herein are the property of other individuals, groups and institutions and their ownership rights must be respected.
Alan Chadwick settled for nothing less than excellence during his life, therefore presenting high quality archival materials is tantamount. He often said "If you are going to do anything, do it artistically and do it well!" In that spirit, archival materials of the highest quality possible – only limited by the state of the quality of the original materials – shall be displayed on this website.
Though he was reluctant to be filmed or audio taped at his public talks and lectures, he allowed it with the instruction that they were to be shared freely with the world.
It is hoped that this archive will be a resource for gardeners everywhere and serve to inspire, inform and provide hope for a better future.
As Paul Lee once stated, "Alan gave us all another chance…."