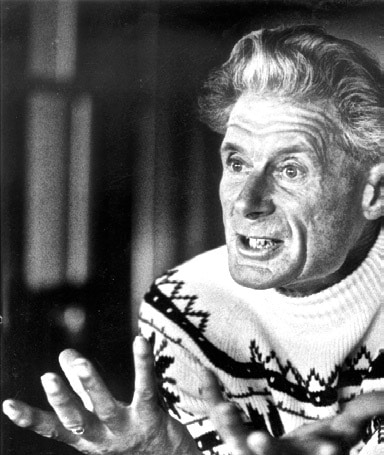 In 1978 Bernard Taper (1918 – 2016), a biographer of Pablo Casals and George Balanchine, writer for The New Yorker magazine, and professor of journalism at UC Berkeley, embarked on a study of Alan Chadwick. His plan was to write a two part piece on Alan in The New Yorker magazine and follow that up with a Chadwick biography. Those writing projects never materialized.
Bernard Taper's Obituary (URL Link): Bernard Taper

However, over the ensuing decades, Bernard gathered a treasure trove of materials about Alan and recorded his interviews with Alan onto cassette tapes. The tapes were recorded in 1978 and 1979. After Bernard passed away, his son Mark generously allowed The Alan Chadwick Living Library and Archive Project to copy, digitize, and display these tapes and materials on this website.

It is recommended that one listens to these tapes in chronological order. They open a door of discovery into the life, work and legacy of Alan Chadwick. The hope is that in the future, Alan will continue to inspire others to pursue truth, beauty and goodness, both in the Garden and in their lives.
NOTE: The use of headphones or earbuds is suggested.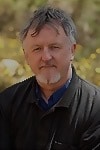 "Everything That is Real is Secret"
Transcripts from Bernard Taper's Recordings by Rodney Blackhirst

Click here to visit page
Bernard Taper Audio Recordings
| Date | Title | Topics |
| --- | --- | --- |
| March 10, 1978 | Conversations with Bernard Taper #1 | The First Meeting & Discussion. The Cosmic, Education, Nature, Plants |
| March 10, 1978 | Conversations with Bernard Taper #2 | Discussion Of True Economy, Nutrition; Herbal Remedies & Effects, Child Education, Life and Nature & An Approach To Horticulture. Alan's Experience At UC Santa Cruz. Sacredness vs. Utility |
| March 10, 1978 | Conversations with Bernard Taper #3 | Discussion Of The Lemon Soda Springs Project. Verbosity. Astronomy; The Sun, The Earth & The Cosmic Performances. Nature. The Classic 4 Elements. Soil. Seeds, Blooming & Plants. Fresh Food. "Bloom" (Aura) & "Area Of Discontinuity" |
| March 10, 1978 | Conversations with Bernard Taper #4 | The Sun & The Cosmic. Sacrament vs. Utility. Nature Gives Life & Our Energy. Ants. Vision & Practicality. Technique. Obedience. Ritual. The Arts That Come Out Of The Garden. Alan's Family |
| March 10, 1978 | Conversations with Bernard Taper #5 | Bouillabaisse. Lunch. Alan's WW2 Conscientious Objector Status & War Experience; Wounds. Chemicals & Pesticides. Alan's Lemon Soda Springs Planning. T. E. Lawrence. Various Topics. |
| March 10, 1978 | Conversations with Bernard Taper #6 | Origin Of Coffee In Ethiopia. Education Was Myth & Fairy Tale. The Theater; Alan Played Lincoln. Steiner. Alan's Upbringing & Tutoring. Alan's Grappling With Trying To Inform Other People. Amor & Psyche. Jacques Cousteau. Fish & Mice Experiments |
| March 10, 1978 | Conversations with Bernard Taper #7 | Channel Island Cows, Alexanders Herb & Milk. Elemental Beings. Cultured-Domesticated Plants From Wild Origins. Varietal Disintegration. "Hybris" - Hybrids. Bernard Tapes Himself About His Sharing With Alan. |
| April 16, 1978 | Conversations with Bernard Taper #8 | Alan Recites Paracelsus Quote & Lays Out His Vision For The New Garden Project For The Lemon Soda Springs Group Of Supporters. |
| April 29, 1978 | Conversations with Bernard Taper #9 | Bernard's Taped Notes To Himself In The Car, On The Way To Meet Alan; And Meeting With Alan Later. Covelo Issues. Lunch. Theater. Dorset Coast. Various Topics. |
| April 29, 1978 | Conversations with Bernard Taper #10 | Various Topics. Poetry. Theater. Memorization. Plant Life & Performance. Chains Of 'Bashilik'. Compost. Soil. Fertility. |
| April 29, 1978 | Conversations with Bernard Taper #11 | Nature Walk. Nature. Plants. Gardens. |
| April 29, 1978 | Conversations with Bernard Taper #12 | Nature Walk. Nature. Plants. Gardens. |
| April 29, 1978 | Conversations with Bernard Taper #13 | Various Topics. Friendship. Culinary. The War. Angelica Cultivation. |
| May 5, 1978 | Conversations with Bernard Taper #14 | Bernard Taping Himself In The Car; Questions For Alan. Various Topics. Lunch In Nature. Ballet. Impresarios. Wines. Mysticism. |
| May 5, 1978 | Conversations with Bernard Taper #15 | Lunch In Nature, Part 2. Alan's Family History. Alan's Later Life Discussed. Theater After The War. South Africa. Art. |
| May 5, 1978 | Conversations with Bernard Taper #16 | Lunch In Nature, Part 3. Various Topics. |
| May 5, 1978 | Conversations with Bernard Taper #17 | Indoor Conversation. Various Topics. Alan's Life Experiences. |
| May 5, 1978 | Conversations with Bernard Taper #18 | Indoor Conversation, Part 2. Various Topics. Theatrical Plays. Chekov, Ibsen, Tolstoy. Beauty. Art. Alan's Tutors. Elsie Fogerty's Drama School. |
| May 12, 1978 | Conversations with Bernard Taper #19 | Indoor Lunch, Part 1. Various Topics. Wine & Soils. Tasteless Food. Utility vs Beautification. Suffering. |
| May 12, 1978 | Conversations with Bernard Taper #20 | Indoor Lunch, Part 2. Various Topics. Alan's Life Experiences. Alan's Family. Alan's Worldview. |
| May 12, 1978 | Conversations with Bernard Taper #21 | Indoor Lunch, Part 3. Various Topics. E. F. Schumacher. Film World. Vision of The Garden Project. |
| May 12, 1978 | Conversations with Bernard Taper #22 | Alan & Bernard; Car Ride Discussion. Various Topics. Alan's Perceived Task. Covelo vs. Santa Cruz. Alan's Time On Long Island. Alan's Arrival & Work In Santa Cruz. Alan In Dorset. Various Topics. |
| May 12, 1978 | Conversations with Bernard Taper #23 | Car Ride From Lemon Soda Springs, Alan's Discussion Of Garden Planning. Various Topics. |
| May 21, 1978 | Conversations with Bernard Taper #24 | Discussion at Alan's Domicile, Part 1. Various Topics. Romanticism. Alan's Views On Living. Alan Discusses His Public Talks. Suffering. |
| May 26, 1978 | Conversations with Bernard Taper #25 | Discussion at Alan's Domicile, Part 2. Various Topics. All Birth Comes Out Of Darkness. Discussion Of Plant Growth. Garden Secrets. |
| June 2, 1978 | Conversations with Bernard Taper #26 | Discussion at Alan's Domicile, Part 2. Various Topics. All Birth Comes Out Of Darkness. Discussion Of Plant Growth. Garden Secrets. |
| June 22, 1978 | Conversations with Bernard Taper #27 | Jasper Rose (Art Historian at UCSC) Interviewed By Bernard Taper About Alan Chadwick. |
| June 14, 1979 | Conversations with Bernard Taper #28 | Alan On Deeper Aspects Of Nature & Human Relationship To Nature; The Virginia Garden Project. Alan Takes Stock Of His Life Changes. |